The signing ceremony of strategic cooperation agreement between Ha Yen corporation – Vietnam and Comet Kato corporation - Japan
Date: 21/12/2019, 09:00:00
On December 15th, 2019, at Tan Ha Phat factory, Yen My II industrial park, Hung Yen province, Ha Yen Joint Stock Company and Comet Kato Japan signed a strategic cooperation agreement and capital investments. Accordingly, Comet Kato officially became an important shareholder of Ha Yen Corp
Attending the signing ceremony, on the side of Hayen Corp, there were Mrs. Nguyen Thi Lan Anh - Chairman of the Board of Directors cum General Director, Mr. Duong Van Hung- Member of the Board of Directors cum Deputy General Director, members of the Board of Directors and all managers of 04 member companies in Ha Yen Corporation. Comet Kato's representatives are: Mr. Aiichiro Kato - President of the company, Mr. Masayuki Nonobe - General Director and Mr. Yuki Kato - Director of Comet Kato.
Ha Yen and Comet Kato have been cooperating since 2013. Since then, Comet Kato has had many programs to support training on technology, expertise, skills, knowledge sharing, and experience to help. For Ha Yen significantly improved production methods and management. In parallel with that, Ha Yen strives to improve and is a close supplier of quality components for Comet Kato. After 7 years, it can be said that Ha Yen and Comet really understand each other's working culture and strengths/weaknesses.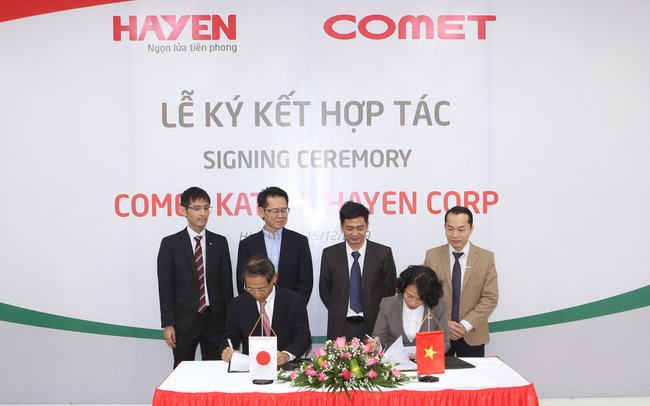 By sharing the vision of the prospects of economic development in general and the production of industrial kitchen equipment in particular in Vietnam and international markets, this strategic capital investment agreement has opened up new, more sustainable and effective cooperation between Ha Yen and Comet Kato. Accordingly, the commitments of the two sides such as supporting production development and providing quality products to each other; improve operating and governance capacity; Comet Kato supports the export of products produced by Ha Yen to Japan and both support to develop business to Asian markets ...
According to Mrs. Nguyen Thi Lan Anh - General Director of Ha Yen- shared and evaluated at the signing ceremony: "This coperation will help Ha Yen have a new opportunity to improve production capacity and supply. At the same time, with the support from a Japanese partner with 100 years of experience in manufature of industrial kitchen equipment such as Comet Kato, the product research and development capacity of Ha Yen will be greatly improved, opening up opportunities to develop markets beyond Vietnam, towards Asia and beyond, Europe and America. "
According to Mr. Aiichiro Kato - Chairman of Comet Kato: "The successful development that Ha Yen has achieved is thanks to the excellent leadership of Ms. Lan Anh. We are confident that Ha Yen's Tan Ha Phat industrial kitchen equipment factory is completed and put into production will quickly play an important role in the development of Ha Yen and Comet. Kato. I also believe that the cooperation between Comet and Ha Yen will be sustainable, long - term and cooperate to produce high quality products to supply to Vietnam, Japan and the world."
Sharing the desire to create sustainable values, bring more quality products and services to customers as well as expand the world, Ha Yen and Comet Kato will work together and grow. With the accumulated experience accumulated over 100 years of Comet combined with a deep understanding of the market of industrial kitchen equipment in Vietnam, the dynamism, acumen and always striving to improve Ha's Yen, this strong cooperation marks a remarkable development for both companies as well as the industrial kitchen equipment industry of Vietnam.
Some pictures about the signing: