Industrial laundry system for resorts, hotels - South Hoi An - Hoiana billion dollar resort project
Date: 04/12/2020, 14:21:32
Nam Hoi An Casino Resort has an area of 985.6 hectares in 3 Communes Duy Hai, Duy Nghia (Duy Xuyen) and Binh Duong Commune (Thang Binh District, Quang Nam Province), has a total investment. USD 4 billion was invested by VinaCapital Group and Gold Yield Enterprises Group. In which, HASD is the developer of the project.
The project will be developed with the goal of building a 5-star standard resort, entertainment and high-end entertainment area. In addition to housing items including villas, apartments, hotels, golf courses ... there are many other amenities and entertainment, including Casino business.
Overall perspective of the Hoiana project - $ 4 billion
With more than 25 years of experience in the field of industrial kitchen and industrial laundry, Ha Yen is highly appreciated by the investor for its capacity and experience in implementing large projects. Therefore, Ha Yen has been selected by the investor and the appraisal council as the most modern and large-scale laundry system contractor in Vietnam so far.
The equipment system in the laundry workshop of the South Hoi An resort - Hoiana is completely imported from reputable and famous suppliers in the world such as Jensen, Ghidini, SailStar, Cardinal, Rema, Primus, Renzaci, Tongfel , YAC ……
The outstanding feature of Hoiana washing system is that it uses a tunnel washing system with extremely large washing capacity, the washing capacity of this system can be set from 15 tons to 20 tons of fabric per day. Using the automatic control system of washing, pressing, drying, loading, ironing, and folding towels to save labor costs and operating costs for the investor. This is a very popular laundry model in the world, but very new in Vietnam.
You are invited to join us for some pictures of the project.
Conveyor system for loading dirty items + tunnel washing machine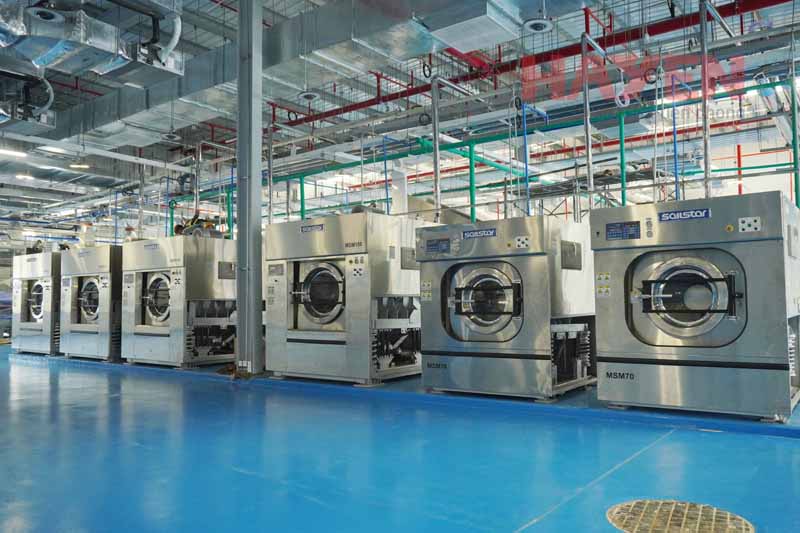 Wet washing machine system
Dry washing machine system
Dryer system
Bed sheet folding machine system
Clean conveyor belt system
For advice on designing an industrial laundry system, please contact Ha Yen's sales department for our best support:
Northern Sales Department: 093.606.2126
Sales Department in Central Vietnam: 093.606.2126 / 093.442.3538
Southern Sales Department: 093.442.3538
Email: hayen-factory@hayencorp.vn