Hayen Corporation inaugurating a sample and performance kitchen, attracting attention of Vietnamese chef circles.
Date: 03/06/2015, 09:00:00
Hayen Corporation inaugurated the first sample and performance kitchen in Vietnam from May 25th 2015 to May 27th 2015. This event drew attention of leading gastronomy specialists.
The managing director of Hayen Corporation, Nguyen Thi Lan Anh addressed at the event: "being a pioneer in commercial kitchen equipment for over 20 years, we would like not only satisfy our customers but also make more contribution to improve gastronomy knowledge, share information about new devices and provide the newly born chef community of Vietnam a place for practicing, learning and exchanging. Therefore, we came up with an idea for building up this sample and performance kitchen".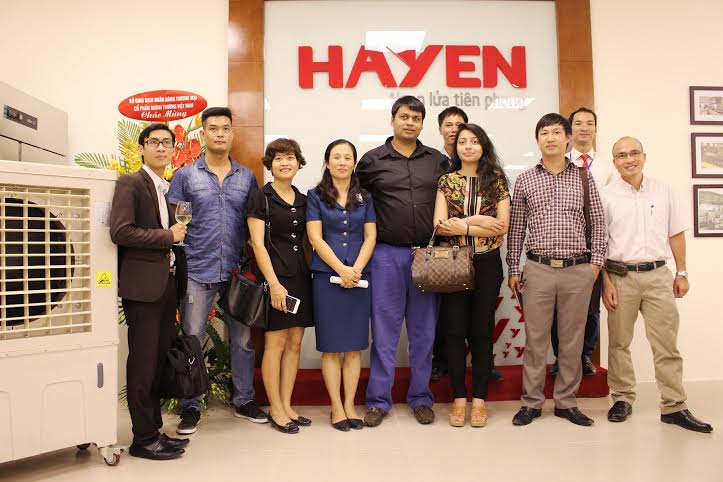 Managing Director Nguyen Thi Lan Anh and guests.
Participants included Chairman of Sai Gon Chef Association, Ly Sanh; Chairman of
Royal Chef Association, Duong Van Hung; Chairman of Ha Noi Professional Chef Association, Nguyen Van Tu; Mrs. Nicke, one of three Singaporean specialists in East Asia gastronomy and chefs from large hotels, restaurants like Dawoo Hotel, Don's Restaurant, Shinbashi Restaurant.
The sample and performance kitchen covers an area of 140 square meters, consisting 2 areas.
The first subdivision, sample kitchen is used for displaying all products made and exclusively distributed by Hayen. And customers could try to operate all displayed equipments.
The second one is performance kitchen, where customers could cook with the equipments and then evaluate the features, usage of equipment, measure cooking time and taste the cooked food.
Ms. Nicke, a Singaporean chef and the chairman of Ha Noi Chef Association.
Furthermore, this is a place for students of various kinds of majors from chef to technology designer, to invite, learn and practice with technology devices.
Hayen hopes that Live Kitchen will become a place which connects companies involving in kitchen field to those who are interested in chef both domestically and internationally.
You can register to invite and operate Live Kitchen through marketing-online@hayencorp.vn.
To get more information, please, access the website: http://hayen.com.vn or call the hotline: 096465 2723